Special Events in 2023!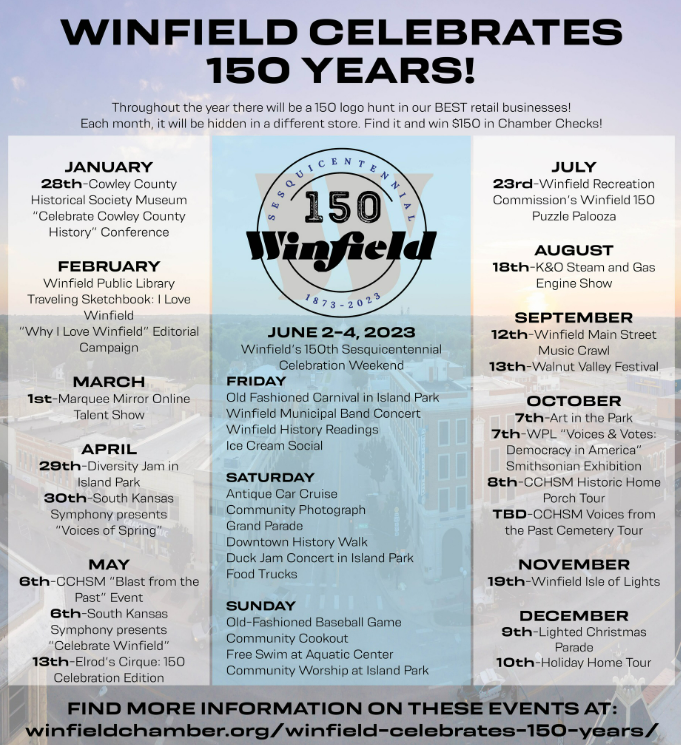 Arts
Gallery 1001 – (620) 222-1490
Marquee Performing Arts Center – (620) 402-6688
South Kansas Symphony – (620) 221-7720
Winfield Arts and Humanities – (620) 221-2161
Winfield Community Band – (316) 722-6389
Winfield Community Theatre – (620) 221-6270
County History
Cowley County Historical Society Museum – (620) 221-4811
Historic homes/Caton home driving tour – Winfield – (620) 221-2421
Dance Studios
DanceCamp Studio – (620) 221-6200
The Edge – (620) 229-9300
Entertainment
Cowley Cinema 8 – (620) 229-8336
Festivals

When: Last week of July/First week of August
Where: Winfield Fairgrounds
What: Carnival, rodeo, demolition derby, 4H exhibits

When: 3rd weekend August
Where: Winfield Fairgrounds
What: Tractor displays, events, working exhibits
Contact: (620) 506-7246

When: Third weekend in September
Where: Winfield Fairgrounds
What: Folk and bluegrass music festival and competition
Contact: (620) 221-3250

Known affectionately as simply "Winfield" or "Bluegrass," this music festival has blossomed into one of the most celebrated folk music events in the country. Music, camping and revelry return the third weekend in September to the Cowley County Fairgrounds in Winfield. Thousands of campers, musicians and artisans arrive weeks early to get in line for the ritual land rush to stake out their favorite campsite.

When: Saturday mornings, 7:30 – 11:00 am, Memorial Saturday through September
Where: Island Park Entrance, Winfield
What: Locally grown produce, meats, nuts, baked goods, crafts and more
Contact: (620) 222-5821

When: First Saturday in October
Where: Island Park, Winfield
What: Art vendors and entertainment
Contact: (620) 221-0587 – winfieldarts.org

When: First Saturday in October
Where: Winfield Fairgrounds
What: Arts and Crafts vendors
Contact: (620) 218-2395

When: 3rd Sunday in November through December 30
Where: Island Park, Winfield
What: Huge Christmas light display
Contact: (620) 221-2438

When: Second Saturday in December
Where: Downtown Winfield
What: Winfield Main Street's nighttime lighted Christmas Parade
Contact: (620) 221-2420
Fishing, Boating, Camping, Birding
Whether a neighbor's pond or an expansive lake, fishing opportunities are plentiful in Cowley County. Anglers commonly pull out large-mouth bass, perch, crappie, catfish and other species from the ponds, lakes and rivers that abound here. Some spots, such as Cowley State Fishing Lake and Winfield City Lake also offer boating and camping in beautiful, tree-lined settings. Hiking trails exist in rural and semi-urban settings. Cowley is also a top place in Kansas for birding — bald eagles are commonly found at Winfield City Lake and near ponds and rivers in Arkansas City.
Prairie Outfitters & Excursions
(620) 222-8870
We have taken our kids hiking on about every trail we could find in Cowley County. All have been family friendly and offer a chance for kids to see and experience some of the wildlife they read and learn about in their classrooms. We've encountered deer, turkey, armadillos, snakes, rabbits…you name it! I have run on trails throughout the region and Cowley County has some of the most beautiful family friendly trails to hike, bike and run that I've seen.

— Ben Schears
Winfield Convention and Tourism
(620) 221-2421
Winfield City Lake
Activities: boating, fishing, camping, birding
Island Park
Activities: fishing, picnics, hiking
Tunnel Mill Dam
Activities: fishing, camping
Fishing and Hunting Outfitters
Cowley County and the surrounding areas offer premier options for hunting upland and timberland prairie game. Whether it's whitetail deer or bobwhite quail, this area has excellent habitat.
Popular game include turkeys, ducks and geese, doves, coyotes, squirrel, bobcats and other small-game animals. Hunters can find free access to public lands or pay to hunt on private lands.
Home on the Range
(620) 402-6700
Ricochet Arms
620-221-4947

Kansas Department of Wildlife, Parks and Tourism
Flint Hills Hunts
(620) 229-3955
Timber Creek Wildlife Adventures
(620) 394-2393
Feaster Deer Processing
(620) 221-2494
Parks
Island Park
Island Park is one of Cowley County's biggest attractions. Adjacent to the Winfield Aquatic Center, the circular park features a large community-built playground, picnic pavilions, nature trail, and is surrounded by a scenic moat open to fishing and inhabited by ducks and geese that love bread!
Cherry Street Park
This large, neighborhood park offers baseball, basketball, picnic areas and public restrooms.
Broadway Sports Complex
This complex boasts baseball and softball diamonds, batting cages, a football field, a walking and bike trail, and six soccer fields. Host to state and regional tournaments.
Recreation Programs/Fitness Centers
Winfield Recreation Commission
624 College St.
620-221-2160
Cowley Fitness
107 E. 7th St.
620-218-1971