For information about the flu vaccine, click HERE.
Para obtener información sobre la vacuna, haga clic AQUI.
Why Immunize?
Media messaging is confusing. First we are assured that, thanks to vaccines, some diseases are almost gone from the U.S. population, yet we are also continually urged to immunize our children, ourselves as adults, and the elderly. Disease prevention is a cornerstone of public health. It is always easier to prevent a disease than it is to treat it. Vaccines prevent disease in the people who receive them and protect those who come into contact with non-vaccinated individuals. Vaccines help prevent infectious diseases and save lives. Vaccines are responsible for the control of many infectious diseases that were once common in this country, including polio, measles, diphtheria, pertussis (whooping cough), rubella (German measles), mumps, tetanus, and Haemophilus influenzae type b (Hib).
We have become a very mobile society.  Even in Cowley County we can travel across country or around the world quite easily.   A quick drive to a regional airport, a trip across country, and then a return home. This increased mobility brings with it increased exposures. Measles, Whooping Cough, and other infectious diseases, can be passed on to people who are not protected by vaccines and outbreaks have occurred in our State in recent years including South Central Kansas.  Vaccine-preventable diseases have a costly impact, resulting in doctor's visits, hospitalizations, and premature deaths. Sick children can also cause parents to lose time from work. We are no longer isolated. So to remain diligent we ask that you practice preventative medicine with us.
We also hear many self proclaimed experts lament about how bad getting vaccinated is.  That they are afraid of needles or that they became ill after getting a flu shot.  In old school terms claims of that nature are just Poppycock! Our nations vaccines are the best in the world. Monitoring health problems after vaccination is essential to ensure the United States continues to have the safest, most effective vaccine supply in history. CDC's Immunization Safety Office identifies possible vaccine side effects and conducts studies to determine whether a health problem is caused by a specific vaccine.
During the 2017-2018 influenza season Cowley County residents were hard hit by two strains of the virus. 89% of the people who became ill and missed work or had to stay home with sick children had NOT been vaccinated.  People who were vaccinated and contracted the flu reported short term illness for 3-5 days as opposed to those who suffered for 10 – 14 days or longer. Many people who had not been vaccinated ended up being hospitalized wit upper respiratory illness as a result of the flu.
In a world filled with misinformation and propaganda, it's easy to be confused about vaccines. We are bombarded daily via social media, radio, television, and the internet.  Many of these so-called 'experts' seem to make a solid case for their stance on vaccines.  They rely upon our natural nature, as parents, to protect our children at all cost.  We understand the confusion.  So much of what they present can appear factual and scientific.  That's why it is so important to be sure that when making these life decisions for your child, you are getting your information from the true experts.  Decades of research studies have been conducted on all the vaccines currently given in the U.S.  If you want to learn more about these vaccines and the science behind them, www.cdc.gov is an excellent place to find that kind of information.  And 'Parents:  Vaccines for your children' is a great place to start.  We want all our children to be protected from illnesses that once ravaged the nation.
School Immunization Requirements
Download the KDHE list of School Immunization Requirements.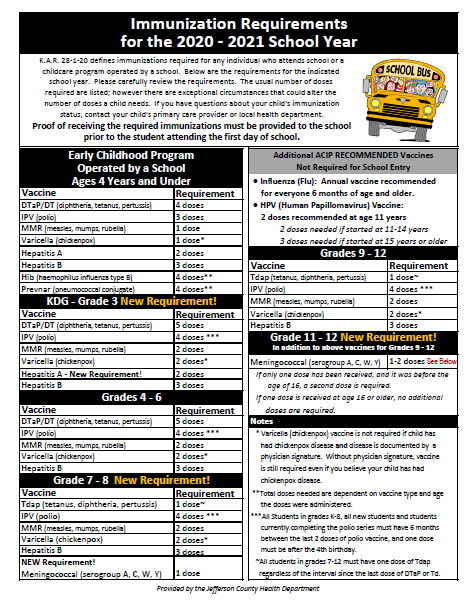 Immunization Fact Sheets
Information provided by the CDC in PDF format HERE.
The above link will provide detailed information on all required and recommended vaccines.
Adult Vaccinations
Did you know that even adults need routine vaccinations? For more information on what vaccines you may need as an adult, visit HERE.
Vaccine Adverse Event Reporting
The Vaccine Adverse Event Reporting System (VAERS) is a national vaccine safety surveillance program co-sponsored by the Food and Drug Administration (FDA) and the Centers for Disease Control and Prevention (CDC). The purpose of VAERS is to detect possible signals of adverse events associated with vaccines. VAERS collects and analyzes information from reports of adverse events (possible side effects) that occur after the administration of US licensed vaccines. Reports are welcome from all concerned individuals: patients, parents, health care providers, pharmacists and vaccine manufacturers.