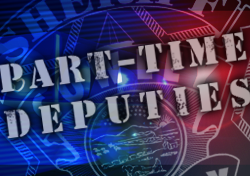 The Cowley County Sheriff's Office has a Part-time Deputies Unit.  Currently there are ten Part-time Deputies with this unit.
A Part-time Sheriff's Deputy goes through the same process as a Full-time Deputy goes during the hiring process. Once they are offered a position, the applicant has to attend the part-time certification course which is two weeks long and pass a written test and firearms qualification to become certified by the state of Kansas. Once they are certified, they will go through field training with a certified field training officer before they are allowed to patrol on their own.
When part-time deputies come out on their own, they volunteer their time and service. When we call them out, they are compensated for that time they work.
A Part-time Sheriff's Deputy performs all the duties a regular Sheriff's Deputy performs. They assist in accident and criminal investigations, enforce traffic  and D.U.I. laws, serve civil process papers and arrest warrants. They provide court room security and do prisoner transports from various facilities. They also assist in patrol, the execution of search warrants and many other regular law enforcement duties such as testifying in court.
Since January 1, 2006 the part-time deputy unit has volunteered 5,517.75 hours and been paid for another 5,913 hours. Since January 1, 2006, the unit saved Cowley County approximately $60,963 in overtime costs and volunteered another $77,249 in service time, as of March 8, 2010.
The Cowley County Sheriff's Office Part-time Deputies are an invaluable asset to the Sheriff's Office and to Cowley County.
Current Part-Time Deputies
| Office Number | Name |
| --- | --- |
| Cowley 31 | Bill Mueller |
| Cowley 60 | Milt Kingsley |
| Cowley 61 | Joel Day |
| Cowley 62 | Dennis Hittle |
| Cowley 63 | Dale Long |
| Cowley 65 | Kyle Riedl |