StormReady®

Cowley County Emergency Management is proud to call Cowley County a StormReady® County. The designation was last renewed (for the seventh time) on September 2, 2021.
To be a StormReady® community, we commit to complying with the following guidelines:
1) Communication:
    a. Established a 24 hour warning point (WP)
    b. Establish an Emergency Operations Center (EOC)
2) NWS Information Reception:
    a. Have 4 separate ways for the EOC/WP to receive NWS alerts

3) Hydrometeoroligcal Monitoring:
    a. Have 3 separate ways to receive hydrometerological data

4) Community Preparedness:
    a. Have a minimum of 3 weather safety talks annually
    b. Train spotters and dispatchers biennially
    c. Host an annual NWS spotter training

5) Administrative:
    a. Have a formal hazardous weather operations plan
    b. Biennial visits by the Emergency Manager to the NWS
    c. Annual visit by NWS official to community
 
As of January 31, 2022, Kansas has the following StormReady® designations:
36 Counties
7 Communities
4 Government Sites
4 Colleges/Universities
1 Commercial Site
4 Supporters
Weather-Ready Nation Ambassador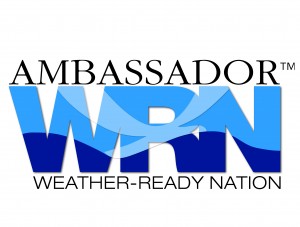 Cowley County is the first County in the South Central Region to become a Weather-Ready Nation Ambassador. As an Ambassador, we serve a role in affecting societal change-helping build a nation that is ready, responsive, and resilient to the impacts of extreme weather and water events. As an Ambassador, we are committed to:
Promoting Weather-Ready Nation messages
Engaging with NOAA personnel on potential        collaboration opportunities
Sharing our success stories of preparedness and resiliency
Serving as an example by educating employees on workplace preparedness
For more information, click on this link: http://www.nws.noaa.gov/com/weatherreadynation/
In September of 2017, Cowley County Emergency Management was named an "Ambassador of Excellence" by the NWS Headquarters. The nomination was submitted by the NWS Office in Wichita for going above and beyond the normal call of duty.