County Sheriff
County Sheriff Dave Falletti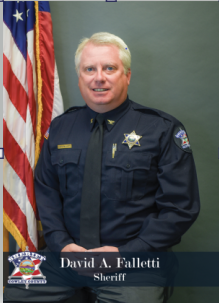 David Falletti started his law enforcement career in 1996, with the Riley County Police Department in Manhattan, Kansas after serving with the United States Army. He was initially assigned as a patrol officer for this county wide law enforcement agency and was later promoted to detective in the Investigations Division. As a detective, Falletti investigated numerous cases which mainly focused on juvenile crimes and child deaths.

After obtaining his bachelor's degree in Public Administration, from Upper Iowa University, Falletti was hired, in 2001, by the Kansas Bureau of Investigation, stationed in Liberal, Kansas covering a six-county area. In 2004, Falletti was transferred to the Wichita Region and covered Cowley, Butler, and Sumner Counties in lower south central, Kansas. In 2013, Falletti obtained his Master's Degree in Criminal Justice from Wichita State University. 
In January of 2017, David was sworn in as the Sheriff of Cowley County, Kansas.  The Cowley County Sheriff's Office has 25 full-time sworn deputies, six part-time deputies, who serve as court room security, and a jail with approximately 220 beds.  There are approximately 27 corrections staff and three civilian staff for the office.

In his capacity with the KBI, Sheriff Falletti worked numerous cases involving homicide, officer involved shootings, child abuse, public corruption, and financial crimes. Along with his other duties, Sheriff Falletti served as a Firearms Instructor, Glock Armorer, and is a past Region 7 Governor for the Kansas Peace Officers Association.  Sheriff Falletti is also a member of the Kansas Sheriff's Association and past President of the Southern Kansas Northern Oklahoma Peace Officers Association.  Sheriff Falletti values education and currently serves as an adjunct instructor for Cowley College, in Arkansas City, Kansas.